The Busiest Little Motel in Coff's
The Aquajet Motel, Coffs Harbour, is a perfect stopover or destination.
Situated in a quiet, convenient position, just off the Pacific Highway, it's a short stroll to the modern Park Beach Shopping Plaza, clubs, pubs, cinemas, restaurants and magnificent beaches, and just a few kilometres to the town centre.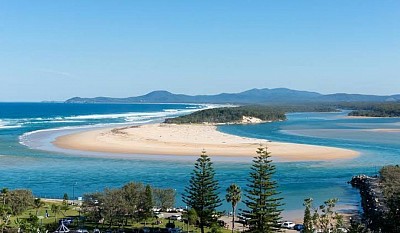 For a hassle free booking experience, click/touch our Blue "Book Online" button on any page.
Rooms
For your comfort, we have...
Queen Rooms, Twin Rooms, Family Rooms and 2-Bedroom Suites.
See our Gallery for images


George
"Thanks Aquajet, had an enjoyable stop over. Your location is great"
See our reviews
Inclusions
All our rooms include a private ensuite, tv, air conditioner, microwave, kettle, toaster, fridge, iron and ironing board. Coffee, tea, sugar and milk are also provided.
For your convenience we have a free guest laundry and a free electric bbq, ladies and gents toilets and seating around our pool area.
The reception is open from 8:00am to 6:00pm.
Book online at the Aquajet Reservation Portal or with one of our partners.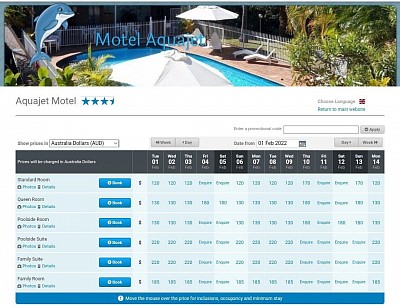 It's so easy to book online
Just a little note from us to you
We want your stay at the Aquajet Motel to be a pleasant one, hassle free and worry free. For that reason we have written this little note just for you!
Find out exactly what the motel's cancellation and prepayment policy is.
Before you click the BOOK button on a motel reservation, read the motel's cancellation policy line-by-line. Then read it again (infact we highly recommend you read all of a motels policies). Policies vary wildly depending on the property and, in some cases, the dates of your stay. Also check when they take your payment and how much. Some motels take the first night of your stay, some 50% of the total stay and some 100% of your stay amount.
Popular holidays or big events in town usually warrant a stricter cancellation policy, but, typically, a motel will want 24 hours' notice before canceling a reservation without charging you. Other motels require 48 or 72 hours, while some insist on a week or fortnights notice or more. Some motels may even charge you a flat cancellation fee regardless of when you cancel.
If you're using a third-party booking site like Expedia or Booking.com, that company may have a cancellation policy that differs from the motel's, so be sure to read both carefully.