What Our Guests Have Said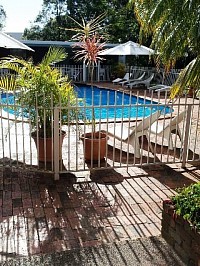 Have your say!
Please feel free to tell us about your experience with us at the Aquajet Motel.
This page shows our most recent reviews that we've received.
Note: Leave your comment at the bottom of the page!
We thank you in advance
Rebecca
Stayed the weekend great friendly staff nice and clean rooms awesome bbq area and close to a great shopping centre will definitely be staying again when we visit Coffs 10/10
Bradley Hay
Amazing staff. Went above and beyond to accommodate me and the situation I was in. Place was neat clean and tidy. Couldn't recommend highly enough. Amazing people
Alastair
Great facilities in a quiet location, comfortable
Graham James
We stayed for the one night going to Queensland, very nice accommodation and very clean. Will be staying again has we head back to Sydney.
Jeanette
We stayed 5 nights, everyone was lovely, rooms great. Will be staying there on next visit to Coffs.
Julie Elg
Stayed two nights hotel is neat tidy and clean, bed comfy and great value fir money. Will stay again when next in Coffs.
Robyn
Perfect for a stopover heading furrher north
Hollie
Really great value for money. Great location. Very clean and comfortable !! Staff very friendly and helpful. Highly recommend.
Thangaraj
Stopped over for a night. Accommodation was very quiet and located next to the shopping plaza which was very convenient. Very friendly staff who accommodated our requests and provided clear instructions.
Shane
Stayed at Aquajet a third time. Great motel
Darren
Fantastic Motel. Friendly, warm staff, great location to beach and shopping centre, very clean spacious rooms. Have stayed multiple times. Upgraded to a pool view room on my last stay. Loved staying here.
Judy
Great location! Friendly staff! Comfortable!
Jo
Great location, nice lady at reception (Cheryl), very clean, comfortable and we appreciate the thoughtful touches such as the night light in the bathroom.
Karyn
Stayed two nights- Staff were amazing, rooms nice and clean And bed really comfortable.
Will be staying again for sure
Archie
Excellent accommodation room very clean, new linen and the fluffiest of towels. Located off the highway so no noise; bed very comfortable. Cheryl at reception very welcoming and helpful. Great value for money.
Naomi
Motel was excellent. Staff are so lovely and everything was clean and comfortable. Mentioned a few things prior to leaving and they were really appreciative and thankful to be told so that they could do something about it. Love the location and would definitely stay there again.
Jess
Friendly and accommodating staff. Affordable, convenient and quiet location. Will stay here again!
Dianne
Well organised, very clean and comfortable. Very well situated to shops and eateries. Very pleasant and helpful staff. Would stay again.
Peter
Very clean and comfortable, lady at reception very friendly. Definitely recommend.
Kevin Barker
always stay at aquajet motel when in coffs very clean and meets all our needs cheryl at reception was very helpful the owners went to a lot of trouble to number parking spots but as usual the privliged ones choose to ignore this
A Shekhar
Clean rooms, good location.
Sinae Kim Rah
Easy booking over the phone. Very friendly and helpful reception. Room equipped well to get you by comfortably. Nice clean room with crispy sheets. Easy access to shopping centre and main road.
Karyn
Great little hotel
Close to everything
Friendly staff and nothing was a problem!
Will stay again.
Jessie
Friendly staff, quiet location and clean facilities. Loved it!
David
Our 4th visit in the last few months. Each time a friendly welcome, a spotlessly clean room where everything works and close proximity to Aldi and the Plaza Shopping centre has made it a most enjoyable and good value stay. A bonus is it's away from the highway noise.
Marguerite
Lovely place, clean and comfortable. Very pleasant owners.
Bec
Great value for money! Rooms have been renovated and are much nicer than our previous stays. Lady at reception was very friendly and nothing was a problem. Great position. We have stayed here on many occasions and we will definitely be back!
Lavina
Over night stay travelling to Gold Coast
Convenient close to shops , hoey money for dinner . Nice lady greet . Clean room , bed comfortable and quiet . Would recommend for a stay
Lyn
Reception staff extremely accommodating when I'd made a booking for the incorrect date. Value for money. Great stay especially for passing through Coff's Harbour.
Errol
Our second stay at this friendly, well appointed and clean motel. Very comfortable bed and all the necessary utensils, plates, bowls and microwave. Excellent coffee and tea and biscuits for the weary traveller. Will definitely stay again!
Kelly
Great location, value for money, perfect for an overnight stop. Rooms clean and comfy, lovely staff, would recommend when in Coffs,
Elaine
Very friendly, tidy and clean. Would go back and recommend to other travellers.
Neva
A very nice 1 day stay would be happy to stay longer. Very nice lady at reception very clean nice room. All very affordable. Nice looking pool. Thank you
Sue
Wonderful place to stay. Impecibly clean, very comfy bed and having a microwave in the room is a welcomed bonus. Staff extremely friendly. Will definitely stay there again.
Katie
Convenient location very tidy lovely staff
Karen
Overnight stay. Clean comfortable and good value for money. Good location to plaza and Hoey Moey Pub. Very quiet and friendly reception.
Anthony B
Great little place,Everything is clean.Close to shops and only short stroll to the beach,Will definitely stay here again.
Sue
A great motel that offered all we needed for a stop over on our travels. A welcoming and clean room, comfy bed, hot shower and coffee/tea facilities. Only a few minutes walk to the shopping centre and dining options.
Toni C
Very clean ,tidy , affordable and welcoming
Graham
Enjoyable Motel, stayed here a couple of times. Good value, will stay here next time on our way back.
Kylie Dunn
After leaving our initial accommodation due to it low standards in cleanliness, may I say that this place was refreshing. Absolutely lovely reception, very clean and comfortable rooms and only a stones throw away from the plaza, KFC etc. Microwave in room with plates, bowls and cutlery for your take out food. Fantastic value for money.
Karen
I enjoyed my one night stay at Aquajet Motel. The room was clean and comfortable, with a nice view over the pool. The bed was lovely and comfortable.
A
Excellent location and great value for money. Staff were very helpful and friendly. Rooms were clean and extremely comfortable.
Anna
Great value for money. Two minute walk to the shopping centre. Clean and comfortable rooms. Staff were helpful. BBQ area is great with a small fridge to store your food and drinks. Huge clean pool. Free laundry with washer and dryer. If you have mobility issues, suggest you ring the motel direct and request a ground floor room.
Would definitely stay again.
Margaret
Great location, clean room and very comfortable bed.
Friendly helpful lady in reception.
Great value for money. We stayed for 4 nights.
P
Good value for a night or 2 stop over. nice little pool area. friendly staff. while a bit old would stay again
Lynette
Very welcoming and friendly staff. Nice clean comfortable room. Very pleasant stay and great value for money
Jon
Very accommodating, great location.
Susan Tossell
Just an overnight stay but very impressed. Room clean and comfortable. Lovely view of the pool. Reception so very friendly and helpful. We'll be back.
Vicki
Second stay at aqua jet. Immaculately clean. Good service and quiet location. Will stay again.
MARISE
Ticked ALL the boxes for me for my 4 day stay. I would not look any further in the future. Thanks Aquajet - see you again
Carissa
Had a great stay, friendly staff and room was clean and tidy and beds are very comfy. Great location easy to find and access to shops.
Karen
The lady in the office was lovely and helpful. The room was clean and comfortable.
The Cooks
This place is a fab halfway point for a break between Sydney and the Gold Coast. The staff are amazing - super friendly and helpful. The shower pressure was terrific (a big plus for us all) and the beds were really comfy.
DAVID
Great location. Friendly staff, clean room and shower. Queen bed in the room was comfy but the single bed was uncomfortable. Very quiet overnight.
Wanda
Wonderful motel, clean with comfortable beds very quite location. Close to shops, pubs and clubs. Reception was very helpful.
Brian
Friendly service, great location, good value
Payman
Truly enjoyed our time at Aquajet motel.
Wendy
Lovely people, clean and comfortable rooms.
Bill
We have been using Aquajet as our stop over accommodation for many years. We choose Aquajet because it is excellent value for money with comfort
Garry
It was only an overnight stay in transit, but the location and facilities suited us well.
Theo van GOOL
Very comfortable and handy location next to major shopping center.
Robyn
Beautiful clean rooms and beds are very comfortable. Staff are great and we will be staying here again.
Pam
Our first stay here did not disappoint. Friendly and helpful managers, a comfortable room with all we could require for overnight and great location.
Robyn
Second time staying at Aquajet...is great value with shopping centre located behind which is handy. Very friendly and accommodating staff....felt immediately at ease. Bench space in room for putting stuff on and bags underneath was huge! It was great to have a private balcony overlooking the pool. The bed was super comfy to sleep on and had a luxurious -looking coverlet on it. My only gripes are not being able to adjust the shower head and the cold water tap on the basin was broken; it also needs to be higher as it was hard to fit the kettle under to refill. After reading some of the other reviews it is likely that these issues will be fixed with upcoming renos. All up, a great place to stay and will definitely stay there again!
Anthea
Lovely friendly staff , comfortable clean room . Will be back for another overnight stay soon
Victoria Bell
Clean, tidy, terrific beds, close to everything, very friendly staff. Will definitely stay again. Thanks
Vickey
Convenient location, clean rooms, value for money, staff are pleasant and very helpful. It met my expectations all round
Jo
Warm welcoming owners and staff. Located in a fantastic position with a gorgeous pool. Rooms are clean, beds comfortable, undergoing refurbishment which will further improve experience
Carol
Great location. Clean rooms. Comfortable beds.
Alex
Staff extremely friendly, motel was a little dated but very clean.
10 minute walk to beach and hotel, Shopping centre behind Motel, no traffic noise from the highway just up the road.
I will definitely return to this Motel again.
James
Clean, comfortable bed there was no traffic noise from the highway or rooms next door, good location and good value
Helen
I have always used Aquajet as my stopover travelling north, and the new owners are making some improvements and did not disappoint me with their friendly service and as usual very clean and tidy rooms.
Peter
Convenient location next to a shopping plaza, clean and comfortable room and good value for money. Nice private balcony overlooking the pool was great too
William
Our second stay here. Great for an overnight stopover. Good location, very clean, easy check in and good value.
John
Dated Motel but clean and well located.
Bed and shower excellent.
Would stay again on an overnight basis.
Glenda
Value for money, clean, well kept.
Loved the ability to arrive late and get the key in the security box at the room - no fuss and very easy,
Décor a little dated but, for an overnight stay - perfect!
Kyong
Convenient location. Friendly staff, clean room and shower. Queen bed in the room was comfy but the single bed was uncomfortable. Overall great room for value.
Di
Well maintained and easy to check in. Only stayed overnight but definitely will be staying again, hopefully soon. Thank you for making our stay enjoyable.
Yvonne Lin
Clean and comfortable stay with good hot water for shower. Functional rooms. Would be great if you could fixed up the shower heads stands.
Gloria
We only had an overnight stay as we were travelling through. Room was clean and the bed comfy.Staff we're accomodating for our late arrival. We will stay again.
Shashi
We had an overnight stay and couldn't meet the staff as we left early in the morning. We loved the easy and smooth check in and out process. We had a pleasant and comfy stay. Good value and convenient location.
Marie
We met up with my sister from Sydney over Easter and had a great time. Clean, comfortable and close to everything. Booked over the phone back in early February with Chris and the team to get 2 rooms close together overlooking the pool and they were very accommodating. Pool area was great with bbq facilities which we used. Pool was great but from my point of view (due to joint replacements) the pool was a bit hard to get in and out of as the steps are quite high just needs a better ladder maybe that goes right down into the water. Otherwise great getaway and will stay again. We all enjoyed it.
Deb
We stayed over Easter and even tho the hotel was very busy - it was really quiet. I'm annoyed at myself for not bringing my togs because the pool looked wonderful! The room was spacious and clean - the bathroom again clean with plentiful hot water. The property is close to the shopping centre, McDonalds, a local cafe and the beach is an easy walk - great little property you know we'll be back
David Christensen
Have stayed on several occasions. The motel is very comfortable together with pool,well located away from traffic noise. It is in easy walking distance to the Park Beach shopping centre and other individual eating outlets. Even though management (Chris and family)have already recently completed several improvements, there are more renovation plans in the future.Chris's family and staff are a pleasure to deal with in both booking and on arrival. So lucky to have been initially told about Motel Aquajet. Will always be my choice of stay when in Coffs Harbour.
Ruth
Comfortable and roomy. The pool a great plus!
Michael
Welcoming staff. Very helpful accommodating our trailer. Rooms clean and comfortable. Two bedroom suite for our stay was terrific. Great location too.
Donna Goodwin
We stayed recently at this motel. Lovely friendly people and the room was great. Close to all amenities and a lovely pool area. Thank you
Danny
Always a great place to stay
Peter
The Aquajet was clean, comfortable and centrally located. I would definitely stay again. A very pleasant experience.
Alex Prendergast
Nice quiet functional Hotel.
Ray
We usually book Aquajet for overnight stays
Clean comfortable and close to so many things
Would recommend to anyone
Craig
Our stay was very comfortable and the room was large with a lot of bench space and room for bags. The shower and hot water was amazing. Also comfy bed and great amenities. We highly recommend this motel as the price is excellent value.
Michelle
I stayed here with 2 of my grand babies aged 10 and 18 months. We booked for the swimming pool and we were not disappointed. Kids and I loved the pool area which is situated in the middle of the property with the motel rooms around it. BBQ area and under cover sitting area. A pool for little ones connected with normal pool for and bigger kids/adults . Rooms tidy and clean, we had a ground floor room which is easy access with parking outside the room. 5 mins to large shopping complex.
Just off main highway. Just the best and price wise, great. We will definitely be making this our go to motel in Coffs Harbour.
Tony and Mark
Clean, quiet, good value
Julianne
Very clean, well maintained Motel. Chris was wonderful and supportive about my Service Dog. Highly recommend this stop. 2 minutes off Pacific Highway where a large Shopping Complex was situated. Convenient all around.
Tony
I enjoyed my stay.
good location near a large shopping centre.
Clean and tidy and comfortable.
Kevin and wendy
Ide like to thank the aquajet for a very enjoyable 4 days i cannot fault this place nice manager very helpfull great pool bbq area ill be definetely back i give a perfect 10
Gary
Old but clean and well maintained. Will stay again.
Shane
Great place to stay, Clean, Comfy rooms and priced really well for the location
Jerzy
Good location, friendly service and clean room. Will stay again
Steve
Excellent location just a 5 minute walk to a major shopping centre. Room was comfortable
bill
I have stayed at he Aquajet several times over the last few years and have always found the staff and management very helpful and will return in the not too far future.
Mick
Chris was more than helpful and we had a please try stay☮️
Graham
Nice and clean and tidy had an enjoyable night.
Damon
Great service friendly and clean. Will stay again
Stewart
I have used Aquajet several times as an overnighter on my way to/from QLD. Easy after hours access as they leave the key on the room door's lockbox and text you the code. Very clean and well-set up rooms. Great value
Vick Kelly
The room was spotless and easy access to car for my aging father. Great value for money
Melita
My room was equipped with everything I needed, it was clean and comfortable, and very economical for my overnight stay. Reception staff was very friendly and helpful. The motel is close to the shops, cafes and beaches.
Chris
Left Sydney just when the floods started, was supposed to be 1 night ended up 5 nights, the management were so accommodating
Kerry
We only had an overnight stay as we were travelling through. Room was clean and bed comfortable and in a convenient location.
Ray Kear
very clean and comfortable, and the Manager was very professional
Diane
Very friendly and helpful. Family room great and very clean. Thank you
John
Very helpful and friendly staff our family room was clean and perfect for our needs
Rachel
This hotel is in a fantastic location! I didn't realise at the time of booking just how close it is to the large shopping centre, it was perfect! The room was very nice and clean, with all the amenities you need. The bed was very comfy too! Overall great value for money, would definitely book again!
Karina
Neat, clean and comfortable. Staff are friendly and rooms have everything you need.
Jana
Great stay. Will stay again
Leah
Great location, clean rooms with everything you could need. I really liked the cups, bowls etc that were available. TV works. Friendly staff. Pool was awesome for kids. Overall would stay again.
Craig Martin
Great Place to stay nice and clean rooms and very comfy beds ! will be back 100%
Susan
Good location and a comfortable bed for the night.
Julie
Good value for a quick one night stay - room was clean and comfortable- just a little out dated - I was still happy overall
Fiona
Nice staff. Comfy stay.
Alicia
My children and I needed accomodation pretty quickly and we were on a very long journey to Sydney aqua jet staff were very helpful with a late check in. Shower was great! Very family friendly room with beds for each of the kids and at a very reasonable price!
Chris McDonald
Loved our two night stay at Aquajet. Clean room, great location, lovely pool, friendly staff and great value for money. Will definitely stay there again when we're back in Coffs.
Louise
Located in a great spot, close to everything and convenient. Everyone, from the manager to the cleaners was friendly and helpful.
Our room was older style but clean and convenient. The beds were confy to sleep in.
We had a little disaster with a child leaving behind multiple items.
Chris called us as each item was found and the staff went beyond the call of duty to look for and find all the missing items.
I couldn't recommend the place more and we will certainly stay there again.
Martin
Room was comfy beds were nice to sleep in aircon was good and cold allways a position was real close to everything and easy to find this is my first time hear and will look at booking again thanks for the stay
Robert
Excellent location just a 5 minute walk to a major shopping centre. Room was comfortable
Bill
Great location. Comfortable and close to all the local attractions.
Good value.
I had a problem with the booking Expedia's fault, not the Motel.
The manager fixed it quickly and without a hassle!
Excellent!
David
Excellent location for family beach holidays. Everything needed was present and in good working order yet the motel will soon need renovation. A nice extra was shade sails over the parking area.
Carol
Thank you for all the care you took of us. We had a great time and enjoyed how easy it was to access to the Coffs Harbour features from the great location.
David
Room was modern and clean and the property well kept. Good location
Elva
Comfy, convenient, clean, helpful staff. Thanks
John
We had a pleasant stay and enjoyed a BBQ by the pool and a refreshing swim. I'd gladly recommend it. I will come again.
Nicole
Great location. Always an enjoyable time whether it's an overnight stay or multiple nights. Friendly staff; happy to help out or have a chat with. Love coming here.
Elaine
great location, close to Big Banana, shopping and the beach. Friendly staffs, clean and quiet, good for stay over.
Rob
Looking for a reasonable place to stay overnight. This is walking distance to anything you might need. Place was clean and tidy, and the 2 blokes at reception when I was there would bend over backwards to help you with whatever you needed. It was quite unexpected hospitality but much appreciated.
Ditto
Great location, price and cleanliness, can't complain.
Geoff
Chris and his team made this stay an enjoyable one, clean rooms and close to everything you can imagine. I Will be back soon
Michelle
Older style but good clean, tidy and quiet motel Very reasonable Convenient walk to shopping centre
Roscoe
Like most comments rooms clean
Tony
We have been coming back to the Aquajet for many years now. The previous managers Paul and Jill were very friendly and took pride in providing a high quality service. The new manager Chris has continued this practice and is quite friendly and accommodating and took time to discuss the improvements that have been made and plans for further improvements. We saw a difference around the pool area where the gardens had been tidied and weeds removed.
The rooms as usual were clean and comfortable and the various snacks available from the reception area were a nice touch. The showers were excellent with piping hot water and plenty of pressure. Chris was proactive in removing some noisy residents who had carried on till after 4 am the previous night and i am thankful for that.
I would not hesitate to recommend this motel for those who wants a budget, no frills stay in a sensational location. My only wish is that it does not become too popular result in being completely booked out at times when I wish to return.
Anne-Marie
Whilst this is an older place, it was clean. Everything worked. Shower nice and hot. Bed was comfortable. Patio area outside the room is lovely. Could do with a bit of waterblasting, but still was enjoyable. Handy to shops and a nice Indian restaurant. Friendly staff. Will stay there again.
Bill Livingstone
Comfortable and clean. Very handy for restaurants, shopping centres, and public transport.
Room was good but some upgrading of exterior areas and balcony would be good. Enjoyed our 3 night stay.

Keith
We stayed for 3 nights last weekend. Room was great, manager very helpful. Short walk to Northside Plaza as well as Park Beach Shopping Centre. Also short walk to Maccas or KFC. Have booked again for next visit.
Brian and Jill
Enjoyable stopover as usual. Clean, quiet and friendly. Great pool.
Joan
We stayed for 3 nights, nice and quiet and clean. Friendly visit from the water dragons. We enjoyed our stay and will be back. Thank you
Peter
Good value pleasant Manager
Natalie
Staff were amazing. Close to shops, it was a nice place to stay especially with a child after her surgery.
Jim Smith
Value for money in a good location.
Brendan
Loved my stay, relaxed vibe and close to just about everything you need. Staff were great. Highly recommend!
Ed Laginha
I had a great few nights, much-appreciated attentive service
Bobbie Jo
The most pleasant, easiest process I have ever had checking into a hotel. Staff are amazing and we have already booked to come back. Our room was clean, comfortable and value for money.
Tracey
Close to all amenities, very comfortable bed.
Older decor but clean.
Robyn
Enjoyed a very comfortable night at the Aquajet. Rooms clean and well set out. Close to Northside shopping centre which has a chinese and pizza takeaway as well as a pharmacy and a few other shops. Motel hosts very pleasant. Would definitely recommend.
Peter
Clean and comfortable older motel showing its age in a few places. Quiet location, great for an overnight stop but the shower in our room did not have much pressure. The staff are friendly and the price per night is very reasonable. The beds were comfortable and the sheets clean, Value for money. Have stayed here previously and will again.
Suzanne
Perfect motel for an overnight stopover. Quiet, clean and comfortable. There is also a gem of a pizza place within walking distance. A great find .
Peta
No frills, friendly, clean. I have returned a number of times and recommend the Aquajet when in Coffs Harbour. Very nice pool area for the kids. The ground floor pool side rooms are far the best.
Star
Conveniently located, walking distance to shopping centre. Short drive to the beach. Clean, comfortable, accommodating manager, nice pool area with free bbq and great value for money. Top experience 10/10
Helen
Clean and quiet convenient location
William
Convenient location, quiet, very clean, comfy bed, good shower. Good value for an overnight stopover.
Glen and Angela
Our stays in the rooms between 10 and 14 have been quite wonderful, pleasantly adorned with cosy comforts and satisfying surrounds inside and out, along with the convenience of good proximity. We enjoy our times here and will invariably return.
Trudy
Great staff super friendly clean and great value