What Our Guests Have Said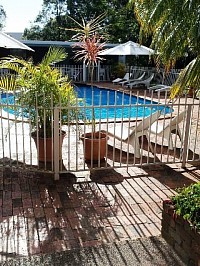 Have your say!
Please feel free to tell us about your experience with us at the Aquajet Motel.
This page shows just a sample of the many reviews we've received recently.
Note: Leave your comment at the bottom of the page!
We thank you in advance
Julie Keenan
Great place to stay clean and value for money
Rachel
A little way off the highway so no noise! Rooms are clean and comfortable but a little dated. Helpful and friendly close to shopping centre
Jannette
An old place but pleasant. Friendly staff.
George
Thanks Aquajet, had an enjoyable stop over. Your location is great.
Graham
Thanks guys. Always good, see you on our way back.
Sharon
Cool place. We got the last room, they fill up quick, better get in early.
Jacki and Jim
It may not be a 5 star place but it's got to be one of the best places to stay for a night, a couple of nights or even a holiday for a week or 2.
Bill and Mary - Blue Mountains
Very clean and a good experience for just $99 per night, great!
Tony
This place is an absolute gem. Cheap but clean and comfy. We would have taken a dip in the beautiful pool but it was a bit cold. We'll be back, thanks Aquajet.