What Our Guests Have Said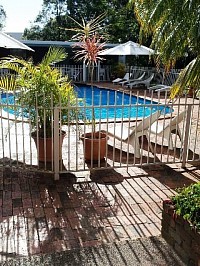 Have your say!
Please feel free to tell us about your experience with us at the Aquajet Motel.
This page shows our most recent reviews that we've received.
Note: Leave your comment at the bottom of the page!
We thank you in advance
Brendan
Loved my stay, relaxed vibe and close to just about everything you need. Staff were great. Highly recommend!
Ed Laginha
I had a great few nights, much-appreciated attentive service
Bobbie Jo
The most pleasant, easiest process I have ever had checking into a hotel. Staff are amazing and we have already booked to come back. Our room was clean, comfortable and value for money.
Tracey
Close to all amenities, very comfortable bed.
Older decor but clean.
Robyn
Enjoyed a very comfortable night at the Aquajet. Rooms clean and well set out. Close to Northside shopping centre which has a chinese and pizza takeaway as well as a pharmacy and a few other shops. Motel hosts very pleasant. Would definitely recommend.
Peter
Clean and comfortable older motel showing its age in a few places. Quiet location, great for an overnight stop but the shower in our room did not have much pressure. The staff are friendly and the price per night is very reasonable. The beds were comfortable and the sheets clean, Value for money. Have stayed here previously and will again.
Suzanne
Perfect motel for an overnight stopover. Quiet, clean and comfortable. There is also a gem of a pizza place within walking distance. A great find .
Peta
No frills, friendly, clean. I have returned a number of times and recommend the Aquajet when in Coffs Harbour. Very nice pool area for the kids. The ground floor pool side rooms are far the best.
Star
Conveniently located, walking distance to shopping centre. Short drive to the beach. Clean, comfortable, accommodating manager, nice pool area with free bbq and great value for money. Top experience 10/10
Helen
Clean and quiet convenient location
William
Convenient location, quiet, very clean, comfy bed, good shower. Good value for an overnight stopover.
Glen and Angela
Our stays in the rooms between 10 and 14 have been quite wonderful, pleasantly adorned with cosy comforts and satisfying surrounds inside and out, along with the convenience of good proximity. We enjoy our times here and will invariably return.
Trudy
Great staff super friendly clean and great value
Dena
Very clean and comfortable. Staff very friendly. Would recommend aquajet motel good value for money.
Jordan
Great for a one night stop over. Clean and cheap.
Amanda
Nice stay .. close to shops and beach.. staff were really friendly
Bruce
Great motel. Friendly staff and clean and comfy.
Anne
I love this place.It's quiet
John and Robyn
Very clean and comfortable and not far from where we needed to be thanks
Mike
Varry accommodating staff. Clean room. A little tired but all works and excelent value.
Julie Keenan
Great place to stay clean and value for money
Rachel
A little way off the highway so no noise! Rooms are clean and comfortable but a little dated. Helpful and friendly close to shopping centre
Jannette
An old place but pleasant. Friendly staff.
George
Thanks Aquajet, had an enjoyable stop over. Your location is great.